You may have heard that Broadcom acquired CA Technologies (CA), and we at Rego are excited about the investment Broadcom will be making in the PPM product.
One of the changes happening at CA/Broadcom is a reduced focus on delivering consulting services and a shift to leverage strategic partners like Rego when customers need implementation and support services.
Rego is the #1 PPM partner, and we are not changing our focus – we are dedicated to providing the best PPM consultants for our clients.
If you have not used Rego in the past, we would love the opportunity to earn your business.
As the largest Clarity PPM (CA PPM) services provider in the world and a founding member of the PPM Global Alliance, we've helped hundreds of organizations of all sizes save time and money while helping them achieve a higher return on their Clarity PPM investment.
In fact, Rego has implemented Clarity Services for 60% of the Fortune 20 and 40% of the Fortune 100—and we average one Clarity PPM upgrade every three days.
What Can Rego Do for You?
Training

Managed Support

Express Deployments

Upgrades

RegoXchange Content

Integrations & Add-Ons

Software (Rego is the North American leader for

Clarity

software sales)

Free Health Assessment
Rego has been the premier Clarity services provider for over 11 years and the go-to partner for Rally Software® (Agile Central), which many of you know as Rally. We're committed to our support of the Clarity community.
Why Rego?
As the largest Clarity PPM services provider in the world, we've helped hundreds of organizations save time and money while helping them achieve a higher return on their Clarity PPM investment.
Not only that, but we also boast a 98% customer retention rate. That's because our consultants are experienced practitioners. We proudly serve our hundreds of delighted customers by helping them reduce costs and ensuring they get a higher return on their CA PPM investment.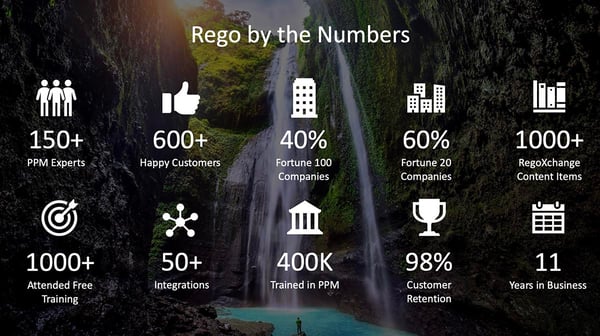 How Can We Help You?
We leverage more than 150 expert consultants and practitioners to provide industry best practices for all Clarity PPM services. We can help you:
Deploy and update Clarity PPM
Build configurations for better performance and reliability
Facilitate higher rates of user adoption and executive buy-in
Continue to learn through long-term instruction via access to RegoUniversity and RegoXchange—the largest

Clarity

resource library available
Whether you have an organization of 50 or 5,000, we'd love to partner with you to help you keep your Clarity instance running smoothly and effectively.
Contact us today to learn how Rego can help with your Clarity services.
Let Rego Be Your Guide
Join us live and in-person at RegoUniversity in San Diego Sept 29-Oct 2 and learn from the expert guides who deliver Clarity PPM and Agile services to 60% of Fortune 20 companies. Act now to save $300 on Early Bird Pricing until July 1st.
Rego also offers free health assessments, webinars, and half-day training classes for Clarity PPM on Roadmaps in the Modern UX, Power BI, Portfolio Management, and Jaspersoft.
For a full list of Clarity Services, visit regoconsulting.com.