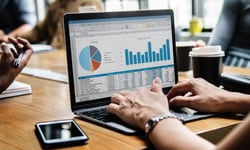 Would you like to see what users have portal access or how healthy your jobs are? We just published a new report, a new portlet, and four free Technical Tricks for Jaspersoft in the RegoXchange, the world's largest Clarity PPM (CA PPM) Content Library.
The RegoXchange offers free samples in theBasiX and full content access in theWorX. Here's a quick look at each of the new items.
New

Portal User

Report
Library: theWorX
This report populates a list of portal users, and we know many of our SaaS Clarity PPM users have been asking for it.
Why? The SaaS CA portal doesn't provide a way to export all portal users, only to determine if a specific user is present. This gel script solves that problem by producing a Microsoft Excel report using Clarity PPM users as the source of user information. The gel script will iterate though all users in Clarity PPM, determine if a corresponding user exists in the portal, and confirm the portal applications (Dev, Test, Prod) the user is assigned to.
Download it Here
New Clarity PPM Health Portlet
Library: theWorX
Use this portlet to get a quick and clear view into the health of key components and critical jobs in your Clarity PPM environment.
Get Oracle File
Get SQL Server File
---
4 New Jaspersoft Tech Tricks
If you're looking to get more out of Jaspersoft, these four Technical Tricks are free in our RegoXchange library with a free BasiX subscription.


RegoXchange is the largest Clarity PPM content library with hundreds of existing portlets, training materials, reports, technical tricks, and workflows designed to help users increase the value of PPM.

Looking for Help with Tech Tricks or the RegoXchange?
Our expert guides will be happy to help. Send us a message at xchangesupport@regoconsulting.com or call at (888) 813-0444.

Let Rego Be Your Guide
Join us live and in-person at RegoUniversity in San Diego Sept 29-Oct 2 and learn from the expert guides who deliver Clarity PPM and Agile services to 60% of Fortune 20 companies. Act now to save $300 on Early Bird Pricing until July 1st.
Rego also offers free health assessments, webinars, and half-day training classes for Clarity PPM on Roadmaps in the Modern UX, Power BI, Portfolio Management, and Jaspersoft.
For a full list of Clarity PPM Services, visit regoconsulting.com.