Rego is pleased to announce we've been named one of the 30 Most Innovative Companies of 2018 by CIO Bulletin Magazine. Rego's recognition is based on our ability to build innovative solutions that help drive down the cost of implementation, development, and support for Project and Portfolio Management (PPM) and IT Business Management (ITBM).
"We're honored to be recognized," said Dan Greer, President and Founder of Rego Consulting. "Innovation is core to Rego's culture. We're always pursuing opportunities to help our clients get more value from their PPM and ITBM software investments."
One of Rego's most popular CA PPM innovations is the Email Action Item Responder (AIR). The solution allows stakeholders, RMs, and PMs to respond to ANY type of workflow from within their email—eliminating the need to login into CA PPM for things such as timesheets, change requests, or budget plans. LabCorp demoed the Action Item Responder in a recent webinar, saying it stole the show for their stakeholders and managers.
"Our success and growth is really due to our ability to fill a gap," said Josh Leone, Chief Technology and Innovation Officer at Rego. "Our clients trust us because we've walked in their shoes."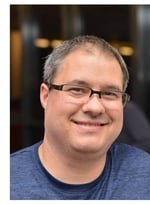 Rego Innovations Include
"We have a wonderful partnership with itDesign in Germany. They're responsible for Meisterplan, the interactive portfolio planning manager. I often refer to them as Rego's sister company. We're closely tied in philosophy and quality, and we're collaborating on several innovative solutions that push product limits."
Rego and itDesign's most exciting collaboration is a multi-dimensional, Visual Taskboard, which will give customers even more flexibility to manage and track their work.
I'm not going to pretend our innovation team has all the answers, but we grow together," said Josh Leone. "We fail together and win together and move on. We have a lot of flexibility to innovate and make it right. When we make a hit, it hits really well."

About Rego Consulting
Rego Consulting is one of the largest PPM and ITBM consulting firms in the world and has implemented solutions for 35 percent of Fortune 100 companies and 50 percent of Fortune 20 companies. To learn more visit www.regoconsulting.com.

About CIO Bulletin
CIO Bulletin is an interactive, preeminent leadership platform serving as a central resource for information on Business & Information Technology (IT) leaders and their entrepreneurial ventures. From celebrating innovation to identifying best practices and providing a forum for today's CIOs and other technology decision makers, CIO Bulletin aspires to keep its readers informed about how tech giants, governments, and consumers are unfurling organizational innovation in the Business & IT world. See other award recipients and read the full CIO article here.