New and updated features and products in the latest ServiceNow release.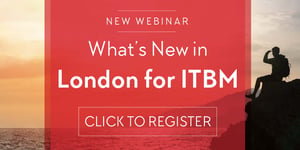 There's a lot of buzz about the upcoming ServiceNow® London release, with improved functionality, patch releases, hotfixes, and a host of exciting new features.
Bring your questions and demo the London release in our free webinar. We'll cover the new ITBM features ServiceNow rolled out for Project and Portfolio Mgmt (PPM), Application Portfolio Mgmt (APM), and IT Financial Mgmt (ITFM).
Here are some highlights of what's coming in London, and how it can help you and your organization:
Agile Development: Unified Backlog
Now, you can maintain a centralized backlog containing records of different task types, such as defects, problems, incident tasks, and stories. The Unified Backlog facilitates prioritizing and sequencing of different task type records in one location and removes the overhead of converting records to stories, saving you both steps and time.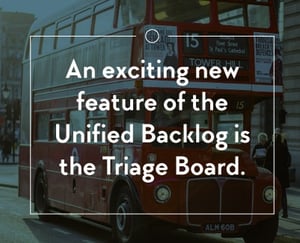 An exciting new feature of the Unified Backlog is the Triage Board. You can set up your own triage board by defining filter criteria and then view the records that are important to your product such as problems, incidents, tasks, defects, or change requests. For example, you can create one triage board for defects and another for incidents. You can add records to the Agile Board Backlog tab from any triage board and then sequence and prioritize records of any task type in a backlog.
Interaction Management
A new application in the London release, Interaction Management, provides a basic framework to handle, manage, and view requests for assistance through a given channel, such as walk-ups, chat conversations, or phone calls.
With interactions, you can:
Assign interactions to specific users
Automatically assign interactions using assignment groups
Control the routing for an interaction
Follow the interaction history
Two standout features in Interaction Management are Interaction Queues, which can be used to direct questions and requests to assignment groups, and Interaction Connectors, which help connect an interaction to a communication channel such as chat, walk-up, or a phone call.
Scaled Agile Framework
With London, you can use SAFe to apply lean and agile principles to your organization, so you can:
manage the challenging task of developing and delivering software products in the shortest viable lead time
gain a broader, high-level governance perspective across various levels in your organization
facilitate collaboration and streamline the planning and monitoring of activities across business units, departments, and teams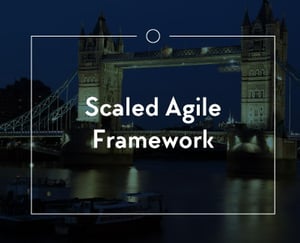 The London release offers the basic version of Scaled Agile Framework, called Essential SAFe. Since product managers and team members use SAFe in different ways and require different levels of access, Essential SAFe is implemented in two ways:
Product managers can access the Agile Release Train (ART) level and do the following:
Plan and monitor activities across teams within your ART by accessing the ART level on a SAFe Board
Manage your ART backlog at a centralized location
Define a program increment and identify which features need to be completed within that increment
Perform big room planning
Track all the features of your ART and view their transition from one state (lane) to another in a visual task board
Team members can access the Team level and do the following:
Plan and monitor activities within your team by accessing the Team level on the SAFe Board
Manage your team backlog at a centralized location
Streamline your sprint planning and completion activities
Track all the stories and view their transition from one state (lane) to another in a visual task board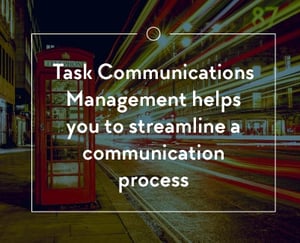 Task Communications Management
Task Communications Management helps you to streamline a communication process by creating designated plans for effective communication during an event. It also provides the ability to setup designated communication plans, channels, templates, messages, and recipients for any task.
With a pre-defined incident response and communication plan, you can reduce the time it takes to notify resolver groups and the time it takes to restore services — which leads to increased customer satisfaction and improved collaboration and communication processes. Here's a quick breakdown of the individual features:
Communication Plan
Define the stakeholders who should be informed, what information should be shared, when the information should be delivered, and the methods of communication.
Communication Task
Specify the mode of communication (channel) and the frequency at which the communication must be carried out.
Communication Contact
Define the recipients of a particular communication plan to determine the target audience involved in each communication task and the responsibilities they are expected to handle. Earlier, using contract management, you could only define users and groups. Now, you can also define a Recipient list and dynamically define the recipients of a particular communication plan using the recipient list.
Communication Channel
Define a communication channel for each communication task to determine which mode of communication to use for the task when a plan is attached to an incident. There are three modes of communication available: email, SMS, and conference.
We'll have a more comprehensive look at the release in our upcoming What's New in London webinar. Bring your questions and see the new ITBM features ServiceNow rolled out for Project and Portfolio Mgmt (PPM), Application Portfolio Mgmt (APM), and IT Financial Mgmt (ITFM).
For help, suggestions, demos, walkthroughs, and anything else you're in need of, let Rego be your guide. Contact us today at regoconsulting.com.