Rego has 5 different options for Clarity PPM customers who want to implement or extend their implementation of Rally Software® (CA Agile Central) — a best-in-class Agile software solution.
Why Rally Software®?
Make faster, smarter decisions to guide your Agile process
Get a single system to plan, prioritize, manage, and track your work
Increase employee efficiency and productivity, improve accuracy, and save everyone time
You can start with a free trial to get a team as small as 10 delivering power or bump your user base up to cover a 50-person Project Management Office (PMO). Check out the five options below: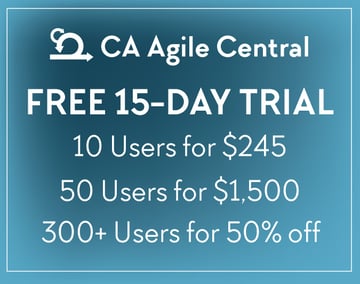 1. Free 15-Day Trial - Rally Software®
Get started with a free trial and test Rally Software® with a small group.
2. 10 Users for $245 per month - Rally Software®
Start a team of 10 on Agile or other iterative methodologies. You'll get to add your second team for free.
3. 50 Users for $1,500 per month - Rally Software®
Change the way your whole PMO delivers with 50 users for $1500 a month.
4. 300+ Users for 50% off if you buy or own Clarity – Rally Software®
5. Request a Quote - Rally Software®
Do you need a solution that covers more resources? We can help you find the best price for your organization—we've worked with user bases that span from 30 to 50,000.
Why Rego?
We're the #1 reseller of Clarity software globally
Rego Guides know best practices—our expert practitioners will help you build quick wins to increase user acceptance and ROI
Our numbers speak for themselves: for the past 10 years, we've trained more than 400,000 people and over 500 organizations in PPM—including 50% of Fortune 100 companies and 70% of Fortune 20 companies
Rego is a founding member of the PPM Global Alliance
Lock in Your Price or Get a Quote Today
While this is in front of you, contact Bob Schwartz at bob.schwartz@regoconsulting.com and find out how to get set up, so your organization (and budget) shine in 2019.
Let Rego Be Your Guide
Rego offers free health assessments, webinars, and half-day training classes for Clarity PPM on Roadmaps in the Modern UX, Power BI, Portfolio Management, and Jaspersoft.
For a full list of Clarity PPM Services, visit regoconsulting.com.