I am so excited to let you know about something that has been 10 years in the making—the Action Item Email Responder. Now stakeholders, resource managers, project managers, and others can respond to actions simply and easily within their email. No more logging into Clarity PPM (CA PPM) to reply to an action. And, you can attach notes to the email and they are fed directly into Clarity PPM.
This new solution will work for any type of workflow needing a response including timesheet approval and rejection, approval of an Idea to become a project, approval/rejection of a change request, approval/rejection of a budget plan, movement of a soft booking to a hard booking, and much more.
"Since I started using Clarity PPM 15 years ago, I have wanted a way to send approvals to individuals and have them respond within their email." Said Dan Greer, President of Rego Consulting. "Every client I have worked with over the last 10 years has asked for this functionality, and it is finally a reality. After a great deal of research, we were able to create a solution that is scalable and affordable. We think this will be a game-changer by increasing the perception and adoption of Clarity PPM within every organization that uses it."
The Action Item Email Responder is simple to set up and use. It leverages 100% out-of-the-box capability and does not require customizations. The responder works with Clarity PPM On-Premise and Clarity PPM On-Demand in any version of Clarity PPM 13.x and above.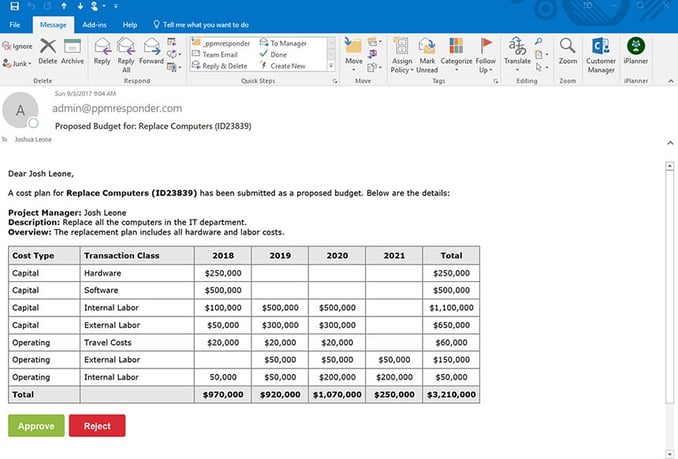 Example Budget Submission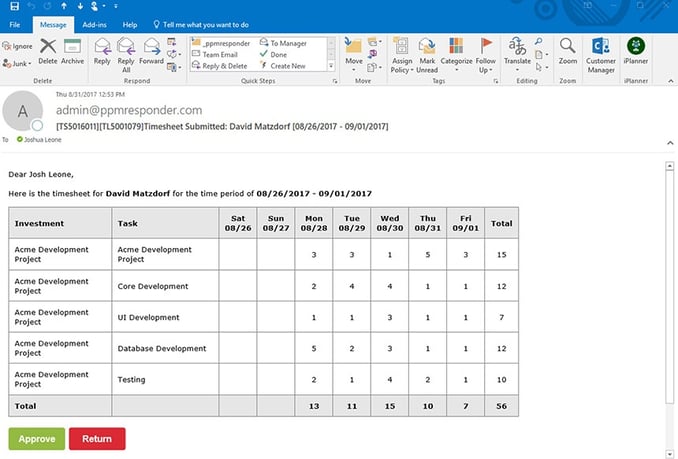 Example Timesheet Submission
The Action Item Email Responder is available as a subscription or a single package purchase and includes
Unlimited use of the service for use with every workflow process approval or response needed on an object. There are no volume or other restrictions.
Basic setup and knowledge transfer on how to write GEL that calls and uses the service.
One custom-built workflow that uses the email responder email
The cost for this incredible service is a one-time set-up fee of $1,500 and
<100 users: $2,500 per year
100-500 users: $5,000 per year
500-2,000 users: $7,500 per year
2,000-5,000 users: $10,000 per year
Over 5,000 users: $15,000 per year
For information on a single purchase option vs. a subscription, contact your Rego representative. Active regoXchange subscriptions qualify for 50% off annual subscription fee.
To learn more about the Action Item Email Responder check-out this video.

So, what are you waiting for? Improve your organizations efficiency with the Rego Action Item Email Responder. Click here to get started!
Let Rego Be Your Guide
Rego offers free health assessments, webinars, and half-day training classes for Clarity PPM on Roadmaps in the Modern UX, Power BI, Portfolio Management, and Jaspersoft.
For a full list of Clarity PPM Services, visit regoconsulting.com.