We love April. It's when CA announces the number of Clarity PPM (CA PPM) software sales for 2016, and there's a lot at stake for Rego Consulting. One of the largest awards for hitting $1M in software sales is the prestige of carrying the coveted title: CA Premier Partner.
It's akin to being accredited. It's like taking the NCAA championship.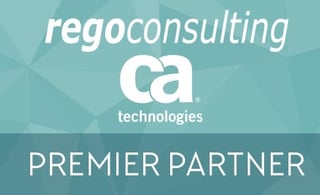 And with Bob Schwartz at the helm, Rego Consulting not only maintained our Premier Partner status from last year, we came out well above the targeted $1M in Clarity PPM software sales.
As one of our friends at CA said, "It wasn't even close! You guys were the #1 resell partner in North America and one of the top partners on new logos, as well as incremental business overall."
The results are gratifying because there are forty-eight resellers of Clarity PPM software, and new clients are likely to vet ten before selecting Rego.
"Surveys show customers trust Rego for five reasons," said Steve Winchester, VP of Marketing. "Two of the most important are the quality of the Rego Guides—our expert practitioners—and the added value clients receive with the regoXchange, our pre-built content library."
Rego's customers are known for their willingness to talk about their positive Rego experiences with prospective clients, who are in the market for PPM help.
"I wanted to thank you for your extraordinary efforts in helping us implement Clarity PPM. Your genuine and sincere engagement whilst working side-by-side with our team is the embodiment of a true partnership. Your tireless efforts and those of the rest of the Rego team have set the bar high, and it's very much appreciated." —Musadiq, Large Bank
To learn how Rego can help you, read the free report: 5 Reasons to Buy Clarity PPM Software from Rego.
Rego Consulting is the largest and most highly-referenced reseller of Clarity PPM. With 350 clients representing more than 50% of the major Clarity PPM user base, Rego stands apart for five reasons.
Let Rego Be Your Guide
Join us live and in-person at RegoUniversity in San Diego Sept 29-Oct 2 and learn from the expert guides who deliver Clarity PPM and Agile services to 60% of Fortune 20 companies. Act now to save $300 on Early Bird Pricing until July 1st.
Rego also offers free health assessments, webinars, and half-day training classes for Clarity PPM on Roadmaps in the Modern UX, Power BI, Portfolio Management, and Jaspersoft.
For a full list of Clarity Services, visit regoconsulting.com.